Take part in the 2024 edition
 From May 29 to June 2, 2024 at Hangar 14 in Bordeaux. 
Participation contract       Donwload Exhibitor's Guide (COMING SOON)
6 reasons to take part
A fair on a European scale, bringing together over 60 international galleries that showcase and promote artistic creation.

Dates (From May 29 to June 2, 2024) that fit perfectly into the calendar of major international fairs.

The internationally renowned destination of Bordeaux and surrounding region, presenting an attractive, dynamic location with incomparable advantages to attract collectors, art lovers, institutions and the general public from France and Europe.

An event supported by the city and region, granting an important position to institutions (MADD, Bordeaux, CAPC, MECA, EBAC…) as well as partner châteaux and estate.

A strong, customised communication plans to raison awareness among an informed, passionate audience who wish to discover a rich array of art and its local territory.

A unique programme with Art and the City and le Vineyards, a sign of confidence in the dialogue that can flourish between galleries, art institutions and the Bordeaux way of life.
THE PLACE TO... BE 
BAD+ Art Fair has been positioned, since its first edition, as a fair with a European dimension and a great artistic richness by bringing together, in the singular setting of Hangar 14, more than 60 galleries and partner institutions.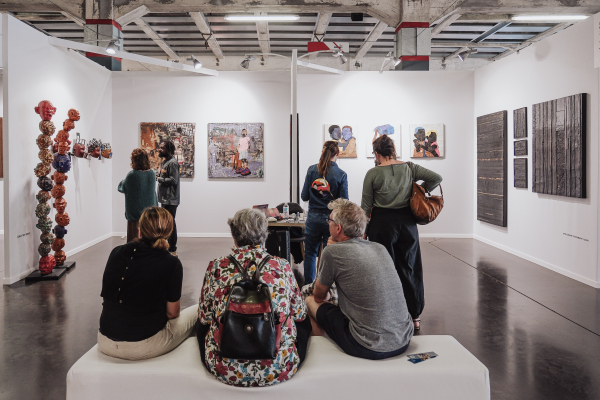 Visitors observing works of art during BAD+
THE NEW ANNUAL MEETING PLACE OF THE ART MARKET 
With these new dates, which are perfectly in line with the calendar of the major fairs, we are reaffirming our desire to establish BAD+ Art Fair as an essential annual event at the crossroads of the art market. With its growing economic development, Bordeaux, world-renowned destination, and the region, presents an undeniable attractiveness and undeniable assets for the success of this third edition. 
BAD+ GATHERS 
With the renewed confidence and support of institutions (MADD Bordeaux, CAPC, MÉCA, etc.), major players in the wine world, the city, the region and our partners, we will continue to expand the unique synergies of all the players who will continue to make BAD+ Art Fair 2024 a unique event. 
BECOME A MAJOR PARTNER OF THIS NEW EVENT 
The success and development of a fair is also and above all due to the richness of the artists and works exhibited. This is why your participation would undoubtedly contribute to and reinforce the success of this third edition. 
We are of course at your disposal to answer all your questions and to help you in your project. 
We will come back to you soon and regularly with more information on all the actions we are implementing for this new edition.