A globalized world with porous borders where contemporary artists evolve from one continent to another and are nourished by various imaginary worlds.
Does this mean that the current art planet would be reducible to this permeability? That in other words, there would be no more creation specific to a territory, a History, a geography, a culture? Nothing is less sure. Resolutely plural, these dimensions conquer the international contemporary art fair with works testifying to this formidable vitality. A non-exhaustive overview in three stops.
Contemporary Chinese art: between tradition and modernity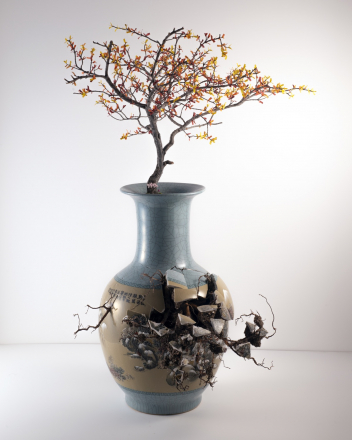 Emeric Chantier - Vase #10, 2019
Young and energetic, the Chinese art scene really took off at the end of the 1970s with the last act of the Cultural Revolution and the death of Mao. Now free from the dogmas of propaganda, today's artists stand out for their commitment, their cross-fertilization of influences and the new way they look at their native land. Carried by this dynamic, many galleries highlight this effervescence.
Among them, A2Z Art Gallery with two founders of Chinese origin or HdM Gallery. Leader in the field, this gallery opened its first space in Beijing in 2009, and with its success a second in Hangzhou in 2013. Also present at the international contemporary art fair: Dumonteil Contemporary, which exhibits in Bordeaux Wang Keping, a leading figure in Chinese contemporary art, in particular because of the major role he has played in the Chinese artistic avant-garde, and Weng Jijun. The latter is renewing a traditional Chinese art that is thousands of years old: lacquer.
The African creative mix invites itself to the international fair of contemporary art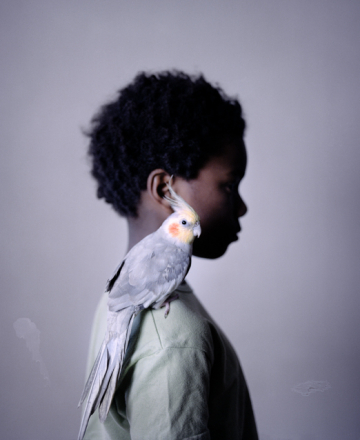 Tina Merandon - Anima #1, 2014
Since the emblematic exhibition of 1989, "The Magicians of the Earth" which integrated for the first time African art to the world creation, the African contemporary art has not ceased to rise in power. This resounding success is accompanied by an incredible diversity... Just like this continent composed of 54 countries, populated by 700 million people and crossed by more than 800 languages.
André Magnin has been crisscrossing this vast territory for several decades. Assistant curator of the founding event mentioned above, this pioneer opened in 2009 in Paris, a space dedicated to modern and contemporary African art: the gallery Magnin-A. We find him here in the company of works signed by Omar Victor Diop, a Senegalese portraitist who needs no introduction. Following in their footsteps are Galerie 127, which promotes young Moroccan artists (Hicham Gardaf, Mo Baala, Mouna Saboni) and Afikaris, whose mission is to promote artists from Africa and its diaspora. They all meet at the international contemporary art fair in Bordeaux.
Contemporary Russian art: resolutely committed and spiritual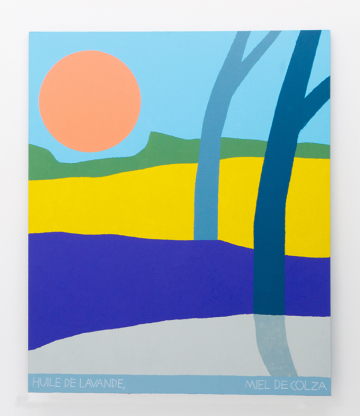 Nikita Alexeev - Huile de Lavande, Miel de Colza, 2015
Malevitch, Kandinsky, Rodchenko, Chagall, Tatline... the history of modern art in the early 20th century owes much to Russian artists. The contemporary art scene of this country is not well known today, but it can be discovered at the international contemporary art fair BAD+. With four galleries founded in St. Petersburg and Moscow (Iragui Gallery, MYTH Gallery, Lazy Mike Gallery and Kultproekt Gallery).
Through them, polyphonic aesthetics are deployed that evoke spiritual dimensions (with the photographs of Anna Hayat and Slava Pirsky), symbolic and abstract (with the paintings of Evgenyi Zaremba), dystopian (Maxim Trulov and Ksyusha Lastochka). Elsewhere, they feed on meaning and nonsense ("Landscapes in three languages" by Nikita Alexeev) or think about catastrophe (Liza Bobkova).