The BAD+ gives the opportunity to a pleiad of artists to expose their view on the world.
A look at the environment: a kaleidoscopic nature
Obviously, ecology is one of the major issues of our century.
This preoccupation underlies, in different forms, many of the artists' works defended by the invited galleries.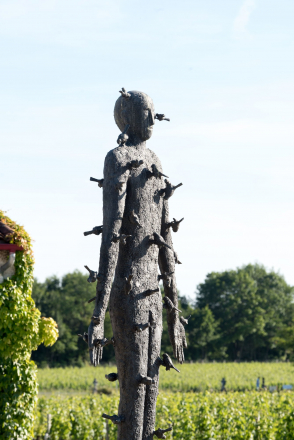 At Hangar 14, climate catastrophes (Muriel Rodolosse) intersect with water issues (Ana Silva), silent destruction (Olivier Kosta-Théfaine) and ambivalent projections (Manuel Ocampo, Yann Lacroix, Emeric Chantier). If the climatic theme fleshes out a dark iconography, it also cultivates inexhaustible sources of wonder as in Marie Denis, Vincent Bioulès or Tatyana Yang.
And it also generates happy reversals like Jeff Divine or Shiori Eda. This painter, born in Tokyo, brings in her paintings human figures made tiny and vulnerable that try to find their place in a grandiose and terrifying world. In short, a territory where nature reigns supreme.
The role of contemporary art on society: identity and otherness
In the face of identity panics and reactionary storms, it is always good to remember this thought of Jean-Paul Sartre: "The other is indispensable to my existence, as well as to the knowledge I have of myself."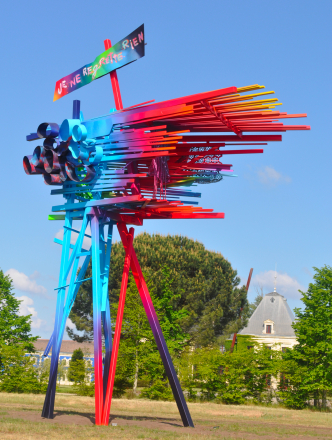 On the BAD+ show and in the company of Tomasz Machciński, this relationship to others takes on dizzying dimensions in a work rich with more than 22,000 self-portraits in which the self-taught artist takes on as many fictional identities and different physiognomies.
In addition, the views of humanity are crossed by melancholy (Charles Hascoët, Tess Dumon and Julie Geffré), by surrealism (David Brian Smith) or by a certain euphoria with the yéyé years immortalized by Sory Sanlé. They also encounter rural African communities (Lindokuhle Khumalo) or question social conformity. Jürg Kreienbühl, who spent more than twenty years painting the marginalized in the Parisian suburbs, or Zhang Shujian and his portraits of fellow citizens in the Middle Kingdom who are outside the standards established by aesthetic norms, are examples of this.
Political prism: committed or disillusioned views
Elsewhere, these mirrors stretched on our world accompany further the role of art and engage militant gestures.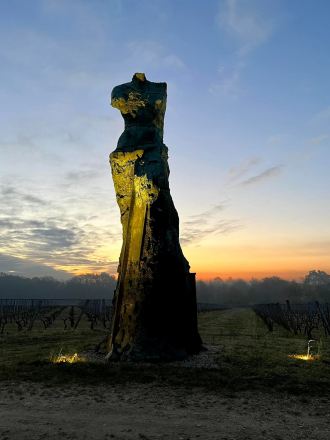 These embrace the collective memory (Justin Ebanda), the exploitation of men and women (Jean David Nkot), the history of dominations (Dalila Dalléas Bouzar) or the postcolonial heritage with the mutant work of Yonamine, born in Luanda, Angola in 1975 (the year when this former Portuguese colony obtained its independence).
Contemporary disillusionment occupies Yakov Khomich or Liza Bobkova who invite us to the spectacle of the collapse of democracies in a repetitive graphic framework. Finally, they are tinged with ambivalent pile-ups with François Mangeol and two of his works. One is displayed on the façade of Hangar 14 ("GO SEE MORE CLOSELY"). The other is composed of a seductive battalion of receding mirrors that reveal a formidable surveillance system.